Staff
Wesley Church and its people have been blessed with a wondrous heritage that never ceases to amaze me. Since 1989, I have been blessed, too, to be part of the church staff where I have learned even more about the people that have made — and continue to make — this church tick.
Those who know me well know that covered bridges are one of my main interests, and I'm often found traveling the highways and byways in search of those beloved structures. Several years ago, as part of an adult program held at the church, I was asked to lead a tour of some of the Columbia County covered bridges, and that request led to an annual (church) excursion to bridges within our own state of Pennsylvania, as well as trips to New York and Maryland.
Once a year, I journey to the annual conference of PAUMCS (Professional Association of United Methodist Church Secretaries). The conferences are held in different parts of the country every year and, I have to admit, one of the best parts is catching up with friends I've come to know over the years.
The light of my life, of course, is my family. I have a terrific son and daughter-in-law and an awesome grandson — I say awesome, because that's one of Micah's favorite descriptive words. I love visiting them, too, along with the other members of their family — Gomer (the cat) and Darby (the dog).
Life is good!
Cynthia oversees and coordinates visitation for limited activity members of Wesley UMC, Bloomsburg PA. She maintains accurate listings of home bound members; initiates personal contact with members as needed; coordinates ministry or regular visitation; recruits, trains, schedules volunteers; provides continual updates to pastors on emerging needs; and coordinates lay/clergy shared home communion ministry.
She also directs choirs ranging in age from 3 through teen, and prepares two worship services for local nursing home residents each month.
She has completed training for NODA (No One Dies Alone), a volunteer program at Geisinger Hospital in Danville, PA and has worked in this position as a volunteer. Cynthia is also a certified Safe Sanctuary Trainer for SUSUMC.
Cynthia studied at Western Michigan University, Goshen College, and Drake University in Florence, Italy. She has worked as a graphic artist, portrait photographer, manager, and district training manager.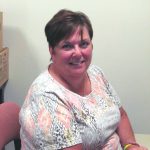 I'm a long time community member of the Berwick area and volunteer for the VITA (Tiny Angel Gowns projects) and the brain aneurysm/AVM community support group. I have over 30 years of accounting experience. My husband, Harry, and I love actively attending school and sporting functions of one of our four grandchildren. I look forward to our vacation each year with family and friends. I am thankful for the opportunity Wesley United Methodist Church has given me, and I look forward to meeting all of you!
After several months of prayer and discernment, the Staff Parish Relations Committee (SPRC) of Wesley Church is excited to announce that a director of music ministry has been recently hired. Beginning with worship on Sunday, September 18, Jordan Markham will serve in this staff position. The SPRC is very thankful for the participation of Kathy Finnerty, Gloria Young, and John Bodenman within the interview and decision process.
Mr. Markham is currently the organist and director of music at Trindle Spring Lutheran Church in Mechanicsburg and serves as the director of the Central Pennsylvania Womyn's Chorus.
Jordan studied at The Peabody Conservatory of The Johns Hopkins University. He is a classically-trained lyric baritone in a tenor range that you will enjoy during worship. He has studied under the Grammy-winning baritone, William Sharp, and soprano Susan Solomon Beckley of Bucknell University. For two years, Jordan was a chorister at The National Cathedral, a chorister and soloist with The Peabody Renaissance Ensemble, and a chorister and soloist in The Händel Choir of Baltimore. While with the Händel Choir of Baltimore, he sang the tenor role of Apollo in Händel's Semele, the tenor solo in Beethoven's Choral Fantasy, and the tenor solo in Brittan's Rejoice in The Lamb. Prior to this, he sang the baritone solo in Rossini's Petite Messe Solennelle with the Peabody Singers and most recently, has been heard singing the baritone solo in The Seven Last Words Of Christ by Théodore Dubois, accompanied by a full orchestra at Palmyra First United Methodist Church.
Jordan greatly enjoys spending his days off with his family and two dogs out kayaking, camping or hiking, and endless days renovating their newly purchased 100 year-old home. He is thrilled to be starting this new chapter at Wesley Church.
I have been a member of Wesley Church since transferring here from the Ridge Street United Methodist Church in 1980, with the exception of 2 years when I lived in Williamsport.
Not until I joined the Sojourner's Sunday School Class did I really get involved with different church activities. After joining the class and getting involved in different activities, I had the opportunity to go to Rosebud, South Dakota, on a mission trip to an Indian Reservation. This was a life changing experience for me (a cliché maybe, but very true.) Shortly after that, I became the Chairperson of the Mission Team and have had the opportunity, along with a dedicated group who assists me, to be able to support many groups and organizations.
I became the Wedding Hostess about 5 years ago and love working with the brides and grooms planning their ceremonies at Wesley. Each wedding is as different as the participants in it and I have been privileged to be able to help calm nerves and make the day as perfect as possible.
I am also involved with the Community Friendship Meal by helping schedule the hosts of the meal and working in the kitchen whenever I am needed and able.
I love my Wesley family and enjoy helping with many different functions and activities as time permits. I have come to appreciate the true meaning of "it's better to give than to receive" through the opportunities available to me.
Outside of the church, I am active in the Columbia County Christian Fair Ministry, Bloomsburg Lion's Club, the Bloomsburg Women's Civic Club, and the Elks BPOE # 436.
The loves of my life are my 2 children and son-in-law, 5 grandchildren and my 2 "4 legged babies" Sophie and Kacie.